Winter tent, Portable sauna Mobiba MB-442m3
Winter tent, Portable sauna Mobiba MB 442 M3
Large Winter Tent
The MB-442 is ideal for use by hunters, fishermen, geologists, construction workers and rescuers, who need a larger winter tent. But if you want to use it like camping sauna you can do this, just need to take off a special mobile partition! It is the real sauna 2x2m and a hall 2x2m, or a big winter tent!
2 in 1: Winter Tent and Sauna Unit
The MB-442 is a great option if you are looking for a sauna as well as a multi-functional heated tent (ideal to use it in a camping trips with mobile sauna).
Waterproof tent made out of polyester material Oxford 240 Т.

Powerful framework out of aviation alloy D16Т

Mobile partition.

Capacity 6 persons.

Schwing doors.
Double-layer winter tent sauna
This winter-proof tent has double-layer walls, consisting of two tarpaulins, an inner and an outer one, which ensure good heat storage. Thanks to this construction, the heat can be retained much better and longer.
Additional opening for chimney and air supply
The tent sauna MB-442 m3 has 2 closable openings lined with stainless steel sheet for the chimney in the roof. This enables you to position and use the stove as you wish. As a heat generator for the sauna with the inner bulkhead attached or as a radiator and kitchen stove with the inner bulkhead removed. When the outside temperature is low, there is also the option of installing a second tent stove in order to achieve an even higher temperature for the sauna.
Stable framework
The tent has a stable frame made of duralumin (alloy D16T). The poles are 16 mm in diameter for the hull of the tent and 10 mm for doors.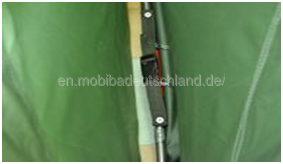 Removable partition
The removable inner bulkhead with swinging door unit between the actual sauna room and the anteroom of the same size is closed to the tent with a zipper and can be rolled to the side as required. This creates one large room instead of two separate rooms. You can also heat the tent to a comfortable temperature and it becomes a cozy lounge. To gain even more space, the stove can be placed in the corner provided for it next to the entrance door.
Two PVC windows
This tent sauna has two 46 x 46 cm windows made of frost-resistant, transparent PVC. Each window has a curtain.
Two revolving doors with mosquito nets
Mobiba MB-442 M3 has a larger door unit. The two swing doors are also equipped with the mosquito net. That makes spending the night a lot more pleasant in summer. Since this tent sauna has two layers, it also has a dual door unit. The outer door opens to the outside and the inner door opens to the inside.
Ventilation openings
There are ventilation openings with mosquito nets above each entrance. These can be closed with zippers. The rain visor provides protection from the rain.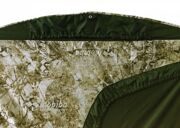 Thermal locks / rain visors
The doors, windows and ventilation openings are equipped with thermal locks or rain visors, they provide additional protection from wind and rain and help to keep the warmth better.
Specifications:
| | |
| --- | --- |
| Model: | MB-442m3 |
| Capacity: | 4-6 persons |
| Dimensions: | 444 х 223 х 205 cm |
| Installation time: | 25-30 min |
| | Polyester, PU, waterproof 3,000 mm |
| | |
| | Duralumin D16T, 16 mm, door 10 mm |
| | |
| | |
| | |
| Max t°: | +100 °C in the summer |
| | +80 °C in the winter at -20°C outside temperature |
| the tent is packed in 2 transport bags | 138 x 40 x 40 cm |
| Total weight tent: | 38,5 kg |
Information about the oven can be found in the oven description
Accessories
Is located in sections