Winter tent Mobiba MB-22 m3 without Stove
Mobile Banya MB-22
Two Layer Camping Sauna Tent
Portable camping sauna Mobiba-22 has two layers - internal and external. This layers create air gap between them that helps to keep warmth inside.
Safe Heater
The microclimate of the sweating room reaches all the parameters of the classic wooden russian banya. Despite the fact, from outside looks like an usual tent, but by temperature, humidity and sensation it is a real banya. Furnace equipped with special Spark-Arrester, which protects tent from fire.
Winter Tent or Sauna Unit
Because this tent has two layers it can be used as winter tent also. You can use the Mobiba MB-22 with furnace Sogra, to camp in cold temperature.
Ergonomic design
The most important difference of Mobiba sauna from the usual tent is an ergonomic design that allows a person to stand inside comfortably. The door allows easily entrance and exit. The furnace is heated with a firewood and is based on the stone for a better quality of the steam.
46 x 46 cm window

:
The tent sauna has a 46 x 46 cm window made of frost-proof, transparent PVC. The window is on the side opposite the door. There is a curtain.
Thermal locks / rain visor
The door, windows and vents are equipped with thermal locks or rain visors to provide extra protection from the wind and rain, helping to keep the heat better.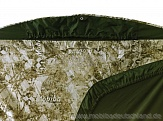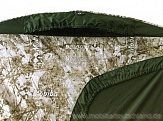 Larger swing door with mosquito net
Mobiba MB-22 M3 has a larger door unit than single-layer models (MB-10, 103, 104). The swing door is also equipped with a mosquito net. That makes sleeping in summer much more pleasant. Since this tent sauna is double-layered, it also has a dual door unit. The outer door is opened to the outside and the inner one to the inside.
Ventilations
On the side opposite the door there is a large ventilation opening with the mosquito net. For ventilation, the fabric flap above is opened and rolled up. Fixation at the top is done with straps, in the closed state with a zip.
The delivery set includes:
Tent for mobile sauna

Framework for tent

Portable furnace Mediana
Specifications:
Model:

MB-22 M3

Dimensions:

212 х 216 х 200 cm / 83,5 x 85 x 78,7

inches

Installation time:

about 19 min

Capacity:

2-3 persons

Polyester, PU, waterproof 3,000 mm

Duralumin D16T, 16 mm, door 10 mm

In the summer up to 100 °C

In winter up to 80 °C at outside temperature -20 °C

Weight of the tent with the bag:

19 kg / 41,9 lbs

Tent in the bag:

123 х 32 х 38 cm

Weight of the stove:

17 kg

Stove in the bag:

65 х 37 х 47 cm

Total weight:

36 kg
Accessories
Is located in sections